Welcome to the Edgewater Art House – Where Art Comes to Life!


Welcome to the next development of The Resource Center's growing art program – the Edgewater Art House.
The Edgewater Art House will be situated on the waterfront of the Chadakoin River on Eighth Street, adjacent to the Riverwalk and across from McCrea Point Park.  This location is frequented by people traveling the walking paths, boating and fishing on the lake, and using the park for recreation.  This location will allow indoor/outdoor classes to be held on a patio overlooking the waterfront.
The Edgewater Art House will include many opportunities for art classes including painting, drawing, mixed media, and ceramics.  A gallery space will allow those participating in the art classes to have an opportunity to showcase their art.
Art has been a hobby and passion of people with disabilities for as long as The Resource Center has existed. When our first educational classes began in 1959, arts and crafts were key components of daily lesson plans. Art remained an important facet of The Resource Center over the years, providing people with disabilities the opportunity to express themselves. To give more people the opportunity to experience the arts, in 2007 we collaborated with area arts organizations and independent artists to offer classes in painting, mixed media, dance/movement, drama, music, and song writing. The results were tremendous and convinced us to add a full-time art instructor to our staff.
Over the ensuing years, we have grown from small classes to large classes as well as individually tailored classes for people who need carefully structured environments and supports.  What began as simple painting projects has grown into ceramics, clay, print-making, jewelry-making, and more.
Works produced by artists with disabilities at The Resource Center have been showcased at venues locally and throughout New York State.  This attention has resulted in art classes becoming extremely sought after, and we have been inspired to reach beyond just our programs and into the community as a whole.
The Edgewater Art House is the next step in our evolving art program.
Please consider making a donation in support of this great cause that is sure to become a wonderful community resource.  Click here to show your support!

Photo Caption: Pictured in TRC's current art room are, from left, Kyle Morgan, Vice President and Wealth Advisor with KeyBank; Susan Gutierrez, TRC's Art Instructor; Glenn Miller, artist; Courtney Sinatra, KeyBank Relationship Manager; John Vogan, Supervisor for TRC's Intellectual and Developmental Disability Services; Jessica Harley, Direct Support Professional; and Denise Jones, TRC's Chief Executive Officer. People …
Continue reading "KeyBank pledges $200,000 to develop new home for The Resource Center's art program"
"There are painters who transform the sun into a yellow spot, but there are others who … transform a yellow spot into sun." – Pablo Picasso This year for #GiveBigCHQ, The Resource Center is asking for your support with the next step of our growing art program for people with intellectual and developmental disabilities.  We …
Continue reading "TRC Give Big CHQ fundraiser to support Edgewater Art House"

For more information about the Edgewater Art House, please contact: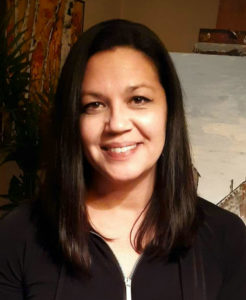 Susan Gutierrez
Art Teacher/Art Coordinator
Phone: (716) 661-1076
Susan Gutierrez accepted the art teacher/art coordinator position in 2016 for the Resource Center's art program. Since then, Susan has expanded the art program by adding drone photography and iPad art.
Susan teaches many different art classes to the people receiving supports through The Resource Center in both the Jamestown and Dunkirk areas. She also helps the artists showcase their artwork to the community at different venues both local and statewide. Susan is a local artist and is on the board of the North Shore Arts Alliance and participates in regional art shows.
Susan is thrilled to be able to expand the art program even more by offering art classes to not only the people that receive supports through The Resource Center, but to the community as well at the new Edgewater Art House.